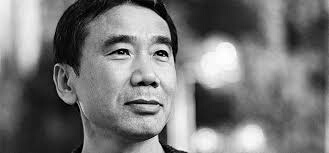 Haruki Murakami mini Biograpghy
Biography
Hakuri Murakami
Haruki Murakami was born in Kyoto in 1949. Following the publication of his first novel in Japanese in 1979, he sold the jazz bar he ran with his wife and became a full-time writer.
It was with the publication of Norwegian Wood – which has to date sold more than 4 million copies in Japan alone – that the author was truly catapulted into the limelight. Known for his surrealistic world of mysterious (and often disappearing) women, cats, earlobes, wells, Western culture, music and quirky first-person narratives, he is now Japan's best-known novelist abroad.
Nine novels, four short story collections and two works of non-fiction are currently available in English translation.
Since childhood, Murakami, similarly to Kōbō Abe, has been heavily influenced by Western culture, particularly Western as well as Russian music and literature. He grew up reading a wide range of works by European and American writers, such as Franz Kafka, Gustave Flaubert, Charles Dickens, Kurt Vonnegut, Fyodor Dostoyevsky, Richard Brautigan and Jack Kerouac. These Western influences distinguish Murakami from the majority of other Japanese writers.
Murakami studied drama at Waseda University in Tokyo, where he met Yoko, now his wife. His first job was at a record store. Shortly before finishing his studies, Murakami opened a coffee house and jazz bar, Peter Cat, in Kokubunji, Tokyo, which he ran with his wife, from 1974 to 1981. The couple decided not to have children.
Murakami is a serious marathon runner and triathlon enthusiast, though he did not start running until he was 33 years old. On 23 June 1996, he completed his first ultramarathon, a 100 km race around Lake Saroma in Hokkaido, Japan. He discusses his relationship with running in his 2008 memoir What I Talk About When I Talk About Running.
Trilogy of the Rat
Murakami began to write fiction when he was 29. "Before that", he said, "I didn't write anything. I was just one of those ordinary people. I was running a jazz club, and I didn't create anything at all." He was inspired to write his first novel, Hear the Wind Sing (1979), while watching a baseball game.
In 1978, Murakami was in Jingu Stadium watching a game between the Yakult Swallows and the Hiroshima Carp when Dave Hilton, an American, came to bat. According to an oft-repeated story, in the instant that Hilton hit a double, Murakami suddenly realized that he could write a novel.He described the feeling as a "warm sensation" he could still feel in his heart. He went home and began writing that night. Murakami worked on Hear the Wind Sing for ten months in very brief stretches, during nights, after working days at the bar. He completed the novel and sent it to the only literary contest that would accept a work of that length, winning first prize.
Murakami's initial success with Hear the Wind Sing encouraged him to continue writing. A year later, he published a sequel, Pinball, 1973. In 1982, he published A Wild Sheep Chase, a critical success. Hear the Wind Sing, Pinball, 1973, and A Wild Sheep Chase form the Trilogy of the Rat (a sequel, Dance, Dance, Dance, was written later but is not considered part of the series), centered on the same unnamed narrator and his friend, "the Rat".
The first two novels were not widely available in English translation outside Japan until 2015, although an English edition, translated by Alfred Birnbaum with extensive notes, had been published by Kodansha as part of a series intended for Japanese students of English. Murakami considers his first two novels to be "immature" and "flimsy", and has not been eager to have them translated into English. A Wild Sheep Chase, he says, was "the first book where I could feel a kind of sensation, the joy of telling a story. When you read a good story, you just keep reading. When I write a good story, I just keep writing."
In 1985, Murakami wrote Hard-Boiled Wonderland and the End of the World, a dream-like fantasy that took the magical elements of his work to a new extreme. Murakami achieved a major breakthrough and national recognition in 1987 with the publication of Norwegian Wood, a nostalgic story of loss and sexuality. It sold millions of copies among young Japanese.
Norwegian Wood propelled the barely known Murakami into the spotlight. He was mobbed at airports and other public places, leading to his departure from Japan in 1986. Murakami traveled through Europe, lived in the United States and now currently resides in Tokyo.
Murakami was a writing fellow at Princeton University in Princeton, New Jersey, Tufts University in Medford, Massachusetts, and Harvard University in Cambridge, Massachusetts. During this time he wrote South of the Border, West of the Sun and The Wind-Up Bird Chronicle.
Writing style
Most of Haruki Murakami's works use first-person narrative in the tradition of the Japanese I Novel. He states that because family plays a significant role in traditional Japanese literature, any main character who is independent becomes a man who values freedom and solitude over intimacy.Also notable is Murakami's unique humor, as seen in his 2000 short story collection, After the Quake.
In the story "Superfrog Saves Tokyo", the protagonist is confronted with a 6-foot tall frog that talks about the destruction of Tokyo over a cup of tea. In spite of the story's sober tone, Murakami feels the reader should be entertained once the seriousness of a subject has been broached.[citation needed] Another notable feature of Murakami's stories are the comments that come from the main characters as to how strange the story presents itself. Murakami explains that his characters experience what he experiences as he writes, which could be compared to a movie set where the walls and props are all fake.
Many of his novels have themes and titles that invoke classical music, such as the three books making up The Wind-Up Bird Chronicle: The Thieving Magpie (after Rossini's opera), Bird as Prophet (after a piano piece by Robert Schumann usually known in English as The Prophet Bird), and The Bird-Catcher (a character in Mozart's opera The Magic Flute). Some of his novels take their titles from songs: Dance, Dance, Dance (after The Dells' 1957 B-side song,[42][43] although it is often thought it was titled after the Beach Boys' 1964 tune), Norwegian Wood (after The Beatles' song) and South of the Border, West of the Sun (after the song "South of the Border").
Some analyses see aspects of shamanism in his writing. In a 2000 article, Susan Fisher connected Japanese folk religion or Japanese shamanism with some elements of The Wind-Up Bird Chronicle, such as a descent into a dry well. At an October 2013 symposium held at the University of Hawaii, associate professor of Japanese Nobuko Ochner opined "there were many descriptions of traveling in a parallel world as well as characters who have some connection to shamanism" in Murakami's works.