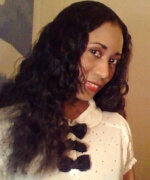 Vevine Goldson grew up surrounded by art. Her mother who was a fashion designer at the time had a great influence on her becoming an artists.
As a little girl her mother had an extra large style book;In it there were pictures of babies,teenagers and adults adorned in 1940s and 1950s attire. She use to skip through all the pages fascinated by the styles; and she would beg her mother to make for her what she liked in the book.She became inspired by her; by watching how she uses plain materials to make cute little dresses for her and her other siblings.
Her other artistic inspiration came from books;The shelves and cupboards in the house she grew up in use to be stacked with books; Piles of books could even be found on the beds.There were books for adults children and everything inbetween.
Vevine became amazed by what she saw in the books,and by the age of six to ten she was drawing every colourful image that she saw in books.
Vevine's philosophy in life is to never let fear stop you from moving forward.