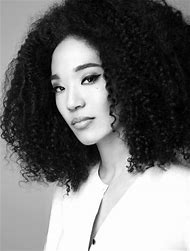 She's busy savvy and electrifying sexy, beautiful and a grammy winner. She won a Grammy in 2015 for best music film for her work in the documentary film 20 Feet from Stardom. Judith Hill has an incredible voice and Throughout her years as a soul artists She is a featured vocalist for albums such as Inspiration: A Tribute to Nat King Cole by George Benson, I'll Take Romance by Steve Tyrell, The Last Ai by Ai and That's Life by Landau Eugene Murphy, Jr.. She has also provides vocals for soundtracks such as Dr. Seuss' The Lorax: Original Songs from the Motion Picture, Happy Feet Two (Soundtrack),
 She has an enormous range Incredible vocal control, incredible belting range. I love the range and how good she can control the pitches so well. She  is amazing, for she puts soul, heart, and feeling into her music. she can hit high notes, low notes beautifully.
A number of Hill's original ballads, including "Desperation" produced by Brian West, were featured in the 2012 Spike Lee film Red Hook Summer which premiered at the 2012 Sundance Film Festival. About Hill, Lee said to Rolling Stone Hill is very energetic deserves top five. sings with energy, emotion, and love. Powerful auro So much soul and such a great voice! Not to mention her amazing piano playing skill!
Judith Glory Hill was born on May 6, 1984. Hill's mother is a pianist from Tokyo who met Hill's father in a funk group in the 1970s. Judith is of Japanese and African descent. She can speak and sing in both English and Japanese,"She's a phenomenal talent.