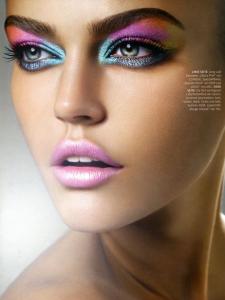 Moisturize first: Apply a lighter eye shadow from lash to brow in several layers so there's full coverage. "Think of this step as priming the wall before painting it, Using a different brush, sweep on a darker shadow from lash to crease.
The key to the perfect smokey eye is proper blending. You want to make sure colors are blended
together flawlessly. Also, it's important to pair light base colors with rich dark colors. Nice mixes include:
Soft gold base with deep purple on top, champagne base with bright blue and peach base with green hue.
Purple is a modern take on the smoky eye. Apply pale violet shadow on the lids, then blend a dark plum shadow into the creases. Rim lower lashes with black liner and top with a layer of lilac shadow applied with a wet brush.
Pile on mascara.
Finish by curling your lashes and applying three coats of jet-black mascara on top and one coat on the bottom.
Remember to keep lips nude.
When applying strong makeup (like smokey eyes or red lips) put the focus on either eyes or lips, never both. You either plays up their huge eyes or their huge lips, never both.
The model in the pic is Daria Pleggenkuhle
Follow her on instagram
https://www.instagram.com/DariaPleggenkuhle/