Una Marson was born on 6 February 1905, in Santa Cruz, Jamaica, in the parish of St Elizabeth. She was the youngest of six children of Reverend Soloman Isaac a Baptist parson, and Ada Marson. Una had a middle-class upbringing and was very close to her father who influenced some of her father like characters in her later works. 
As a child before going to school she was an avid reader of available literature which at the time was mostly English classical literature.
At the age of 10 she was enrolled in Hampton High a girl's boarding school in Jamaica of which her father was on the board of trustees. However that same year Reverend Isaac died leaving the family with financial problems, so the family moved to Kingston. Una finished school at Hampton High but did not go on to a college education.
After she left from Hampton she found work in Kingston as a volunteer social worker and used the secretarial skills such as stenography she had learned in school.
In 1926 she was appointed assistant editor of the Jamaican political journal Jamaica Critic. Her years there taught her journalism skills as well as influencing her political and social opinions and inspired her to create her own publication. In fact in 1928 she became Jamaica's first female editor and publisher of her own magazine The Cosmopolitan. 
The Cosmopolitan featured articles on feminist topics local social issues and workers' rights and was aimed at a young middle-class Jamaican audience. Marson's articles encouraged women to join the work force and to become politically active. The magazine also featured Jamaican poetry and literature from Marson's fellow members of the Jamaican Poetry League started by Clare Macfarlane.
In 1930, Marson published her first collection of poems entitled Tropic Reveries that dealt with love and nature with elements of feminism. It won the Musgrave Medal from the Institute of Jamaica. Her poems about love are somewhat misunderstood by friends and critics as there is no evidence of a romantic relationship in Marson's life, although love continued to be a common topic in her work.
 In 1931 due to financial difficulties The Cosmopolitan ceased publication, which led her to begin publishing more poetry and plays. In 1931 she published another collection of poetry entitled Heights and Depths, which also dealt with love and social issues. 
Also in 1931, she wrote her first play, At What a Price about a Jamaican girl who moves from the country into the city of Kingston to work as a stenographer and falls in love with her male boss. The play opened in Jamaica and later London to critical acclaim. In 1932 she decided to go to London to find a broader audience for her work and to experience life outside of Jamaica.
From 1932 to 1945, Marson moved back and forth between London and Jamaica. She continued to contribute to politics, but now instead of focusing on writing for magazines, she wrote for newspapers and her own literary works in order to get her political ideas across. In these years, Marson kept writing to advocate feminism, but one of her new emphases was on the race issue in England.
Maud Victoria Marson interviews WEST INDIANS IN BRITAIN DURING THE SECOND WORLD WAR
#
Marson first moved to London in 1932. The racism and sexism she met there "transformed both her life and her poetry" The voice in her poetry became more focused on the identity of black women in England. In this period then Marson not only continued to write about women's roles in society but also put into the mix the issues faced by black people who lived in England. In July 1933 she wrote a poem called "Nigger" that would appear in the League of Coloured Peoples' journal, The Keys; one of Marson's more forceful poems addressing racism in England, "Nigger" only saw light seven years later when it was published in 1940.
Outside of her writing at that time, Marson was in the London branch of the International Alliance of Women, a global feminist organization. By 1935, she was involved with the International Alliance of Women based in Istanbul.
Marson returned to Jamaica in 1936 where one of her goals was to promote national literature. One step she took in achieving this goal was to help create the Kingston Readers and Writers Club as well as the Kingston Drama Club. She also founded the Jamaica Save the Children Fund an organization that raised funds to give the poorer children money to get a basic education.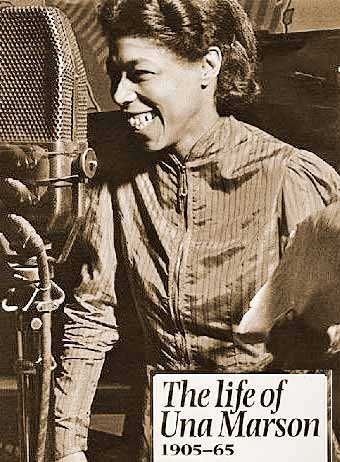 In promoting Jamaican literature, she published Moth and the Star in 1937. Many poems in that volume demonstrate how despite the media's portrayal that black women have inferior beauty when compared to the whites, black women should still be confident in their own physical beauty. 
This theme is seen in "Cinema Eyes", "Little Brown Girl", "Black is Fancy" and "Kinky Hair Blues". However, Marson herself was affected by the stereotype of superior white beauty; Marson herself, her biographer tells us, within months of her arrival in Britain "stopped straightening her hair and went natural".
Going along with her feminist principles, Marson worked with Louise Bennett to create another play called London Calling, which was about a woman who moved to London to further her education. 
However, the woman later became homesick and returned to Jamaica. This play shows how the main character is a "strong heroine" for being able to "force herself to return to London" in order to finish her education there. Also in the feminist vein, Marson wrote Public Opinion, contributing to the feminist column.
Marson's third play, Pocomania, is about a woman named Stella who is looking for an exciting life. Critics suggest that this play is significant because it demonstrates how an "Afro-religious cult" affects middle-class women. 
Pocomania is also one of Marson's most important works because she was able to put the essence of Jamaican culture into it. Critics such as Ivy Baxter said that "Pocomania was a break in tradition because it talked about a cult from the country", and, as such, it represented a turning point in what was acceptable on the stage.
In 1937 Marson wrote a poem called "Quashie comes to London", which is the perspective of England in a Caribbean narrative. In Caribbean dialect, quashie means gullible or unsophisticated. 
The poem shows how it was possible for a writer to implement Caribbean dialect in a poem and it is this usage of local dialect that situates Quashie's perspective of England as a Caribbean perspective.