Jada Koren Pinkett-Smith (born Jada Koren Pinkett; September 18, 1971)[1] is an American actress, producer, director, model, author, singer-songwriter and businesswoman. She began her career in 1990, when she made a guest appearance in the short-lived sitcom True Colors. Her success began to build when she starred in A Different World, produced by Bill Cosby. She earned recognition for her role opposite Eddie Murphy in The Nutty Professor (1996), and starred in dramatic films such as Menace II Society (1993) and Set It Off (1996). She has appeared in more than 20 films in a variety of genres, and gained wider recognition for her roles in the films Ali, The Matrix Reloaded, and The Matrix Revolutions.
Pinkett-Smith launched her music career in 2002, when she helped create the metal rock band Wicked Wisdom, for which she is a singer and songwriter. She created a production company. She also created her own clothing line. She is the author of a children's book, published in 2004.
In 1997 she married actor Will Smith; they have two children, Jaden and Willow. Pinkett Smith is the stepmother to Smith's son from a previous marriage, Willard "Trey" Smith III.
Together, the couple have founded the Will and Jada Smith Family Foundation, a charity organization which focuses on urban inner city youth and family support. The foundation has worked with non-profit organizations such as YouthBuild and the Lupus Foundation of America. Before her marriage to Will Smith, Pinkett was a close friend to the late West Coast rapper Tupac Shakur until his death.
Early work (1990–1995)
In Los Angeles, Pinkett-Smith applied for the choreographer position for the television series In Living Color, created by actor Keenan Ivory Wayans. Although she failed to get the job, Wayans helped her find an acting agent and the two became close friends.[4] She began her acting career in 1990, when she starred in a television pilot for supernatural drama Moe's World. Although the pilot was never aired, she received guest roles in television shows such as True Colors (1990), Doogie Howser, M.D. (1991), and 21 Jump Street (1991). After auditioning for comedian Bill Cosby's NBC television sitcom A Different World in 1991, she earned the role of college freshman Lena James, a character based on Pinkett-Smith's own style and personality.[4] She played the role for two years until the show ended in 1993.
Pinkett-Smith made her feature film debut in 1993 in the critically-acclaimed drama film Menace II Society as Ronnie, a young single mother in Watts, California. She then appeared in several romance films, reuniting with her Menace II Society co-star Larenz Tate to star in The Inkwell (1994) as his love interest, Lauren Kelly. She also played the role of Lyric in the film Jason's Lyric (1994).
In 1994, Pinkett-Smith finally acted with Wayans in the action and comedy film A Low Down Dirty Shame. "He busted my ass," she told Entertainment Weekly. "I had to read twice, no three times, for him!"[13] She described her character, Peaches, as "raw" with "major attitude",[13] and her acting garnered positive reviews. The New York Times noted, "Ms. Pinkett, whose performance is as sassy and sizzling as a Salt-n-Pepa recording, walks away with the movie."[14]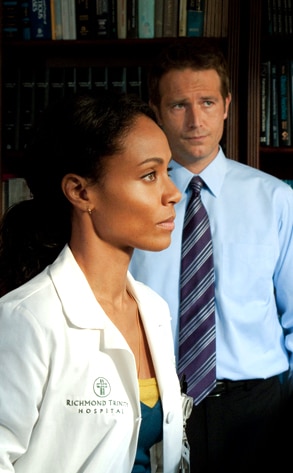 [edit] Breakthrough (1996–2000)
Following a role in Tales from the Crypt: Demon Knight (1995), Pinkett-Smith co-starred with actor and comedian Eddie Murphy in the 1996 remake of The Nutty Professor. It became her biggest box office success, bringing in more than $25 million in its first weekend and opening in over 2,000 theaters.[15] She subsequently landed a role in the film If These Walls Could Talk (1996), as Patti. Co-directed by Cher, produced by Demi Moore, and co-starring Cher, Moore, and Sissy Spacek, the made for television movie earned nominations for the Emmy Award and Golden Globe Award, and brought exposure for Pinkett Smith.
Set It Off (1996), a crime drama about four women who rob banks to escape from poverty, helped to establish Pinkett-Smith as an actor of note. With Queen Latifah, Vivica A. Fox, and Kimberly Elise, Pinkett-Smith portrayed Lida "Stony" Newsom, a young woman struggling to care for her younger brother after the death of their parents. Her acting in the film prompted the San Francisco Chronicle to name her as "the one to watch".[16]
Pinkett-Smith took a variety of roles in the late 1990s, including a voice role in the Japanese anime Princess Mononoke (1997), a cameo in Scream 2 (1997), a supporting role in Return to Paradise (1998), and starring roles in the comedy film Woo (1998) and the short film Blossoms and Veils (1998), written and directed by Grey's Anatomy creater Shonda Rhimes.
In 2000, Pinkett-Smith was cast in Spike Lee's film Bamboozled (2000), as Sloan Hopkins, a personal assistant to the main character portrayed by Damon Wayans. Although the film met with mediocre reviews, it won the Freedom of Expression Award by the National Board of Review.[17] She later starred in the 2001 comedy Kingdom Come with Whoopi Goldberg.
[edit] International success (2001–present)
Also in 2001, Pinkett Smith played the supporting role of Sonji Roi, the first wife of famous boxer Muhammad Ali, in the biographical film Ali. This marked the first film that she would participate in with her husband, actor Will Smith, who portrayed Ali. The film received mostly good reviews from critics and earned her a nomination from the NAACP Image Awards for Outstanding Supporting Actress in a Motion Picture.
Perhaps her best-known role to date is the part of human rebel Niobe in the films The Matrix Reloaded (2003) and The Matrix Revolutions (2003), sequels to 1999's The Matrix. She had met the series' directors, The Wachowski Brothers, before they had begun to film The Matrix and they formed a close bond. The character was eventually written, specifically, with Pinkett Smith in mind.[18] Directly after she filmed her scenes for Ali, Pinkett Smith flew to Australia to work on the Matrix sequels. The role brought her into the spotlight, as The Matrix already had a cult following of fans, and the sequels earned over $91 million and $48 million during opening weekends, respectively.[19][20] Her acting in The Matrix Revolutions earned her another nomination for the Image Award for Outstanding Supporting Actress in a Motion Picture.
In 2004, Pinkett Smith reunited with director Michael Mann, whom she had worked with on Ali, to play United States Department of Justice prosecutor Annie Farrell, in the thriller Collateral, co-starring Tom Cruise and Jamie Foxx. She later provided the voice of Gloria the hippo in the DreamWorks animated film Madagascar (2005). Director Eric Darnell stated, "[Pinkett Smith]'s got all this incredible power and attitude and strength and confidence, which is just what we wanted for Gloria the hippo." She reprised her role for the sequel, Madagascar: Escape 2 Africa, released in November 2008.
Pinkett Smith returned to drama when she co-starred with Adam Sandler and Don Cheadle in Reign Over Me (2007). The film revolves around a lost friendship between Charlie Fineman (Sandler) and Dr. Alan Johnson (Cheadle) which is rekindled after Fineman loses his family to the September 11 attacks on the World Trade Center. Pinkett Smith played Johnson's wife Janeane.
In 2008, Pinkett Smith portrayed Alex Fisher, a lesbian author, in The Women. The film co-starred Meg Ryan, Annette Bening, Eva Mendes, and Debra Messing, and was directed by Emmy Award-winner Diane English. Pinkett Smith's directorial debut was The Human Contract; she also wrote and acted in the movie. Starring Paz Vega and Idris Elba, it debuted at the Cannes Film Festival in May 2008.[21] As of January 2009, she has been working on the TNT medical drama Time Heals, in which she is executive producer and a starring cast member.[22] The show has been greenlit for 10 episodes.[23] The title of the show has since changed to Hawthorne and it premiered on June 16, 2009.


Last edited by Admin on Sat 22 May 2010 - 13:48; edited 1 time in total